About us
We are a group of AI enthusiasts passionate about game development and sports. We are a dynamic team of different people who share the same desire of creating a new quality in sports entertainment by providing viewers with an amazing experience and an unprecedented level of participation in the observed struggles. We are confident that our vision of immersive spectatorship of our favorite disciplines is the future, and we want to introduce you to it. Visit the sports venues in VR! Stand shoulder to shoulder with your favorite athletes! Decide what do you want to watch!
What we do
Our system uses the image from a set of ultra-fast digital cameras, and with the help of machine vision creates a 3D model of the observed activities. Our solution allows you to observe everything from any place in the sports arena - move with the selected player, observe the game from the perspective of the ball or follow the athletes' struggles from the perspective of the referee

Gamelike entertainment
Our system allows spectator to watch games from any point on a field in real time. You decide what you want to watch!

Telemetry information
Trainers can access AI-based telemetry information during matches and observe the performance of individual players closely

VAR, Goal-Line and more…
Solution we build allows high frequency telemetry tracking. This will allow the referees to be even more confident that their decisions are fair to the players and spectators
Demos
Nov 22
Playing 'floor is lava' in VR
Playing "floor is lava" with real (almost) lava! Make it real! Feel the heat! Have fun!
Oct 1
SVT Camera System Demo
Presenting our brand new mast for sports' transmissions! Watch your fav sports in VR!
See more demos
News
Aug 31
Interview in Polsat's "Szczerze o pieniądzach"
Our CTO, Sebastian Konkol, and Product Director, Gennadii Semenyshyn have recently met with Ernest Bodziuch in 'Szczerze o pieniądzach' (ENG: 'Honestly about money') in Warsaw Stock Exchange (GPW) to talk about Sport Vision Technology's solutions. You can find the recording with English subtitles in the embedded video. SVT's representatives have described our revolutionary solutions and answered the host's questions about the … Interview in Polsat's "Szczerze o pieniądzach"
Read more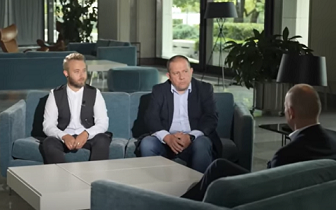 Jul 27
Vortex beam as a positioning tool
Many issues must be solved when you need a stable camera position (especially for AI). It is essential for real-time telemetry tracking. The bigger the area, the more demanding it is to get regular information about what the camera is observing (at certain distances on a football pitch, one pixel can represent a couple of … Vortex beam as a positioning tool
Read more
Read more news